Isis & Wayne's Wedding page
____________________________________________________________________________
Click on the picture to see an enlargement of the Engagement Party Invitation

07/12/2006 (update by Isis)
Here's a little heads-up on what's been happening to date
Since the last update I have managed to get a few more things done.
As you all know I had already booked the ceremony location, reception venue and was in the process of securing a photographer and celebrant...well, that's all confirmed now.
Since then I have also booked the DJ, organized the flowers with the florist, ordered my jewellery, bought my shoes (see picture ahead) and am going to organise a time to speak with a videographer - I know you will be happy about this Beth. For those who don't know, because videographers are very expensive here (from $1400-$2300) and as my Dad does video production on the side, Wayne and I were thinking about buying our own video camera (a good one of course) and then asking someone that we knew, who was good with cameras, to film the day, then getting dad to edit it with music etc for us. Beth nicely suggested us against getting someone inexperienced as such to film the day with a non-commercial camera as the quality would not have been good and we would probably regret it in the long run. We took her advice on board and I spoke to a guy here in Townsville who will do the full day's filming without the editing for $600...I was pretty pleased with that and will therefore arrange a time for us to talk and go through the contract etc.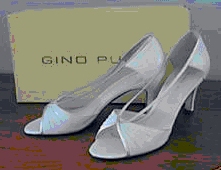 Also, now that the engagement invites are out and the party is nearly upon us, that's another thing I no longer have to really worry about.
At my last update I was pretty excited to announce that I had tried on my very first wedding dress...well, I have been there and done that a few more times and think I have found the dress I love and it's totally different to the first dress I tried on. I can see this bridal gown shopping thing is not going to be all that fun but rather difficult!! Anyway, before doing anything about the dress I do like at the moment, I will wait until I go bridal shopping in Brissy in January and then make my final decision.
The other thing is that I have all the bridesmaids material on lay-by and will collect it soon.
Ummm, I think that pretty much covers it for this time - hope I haven't bored you all too much.
Isis and Wayne's contacts:
P: +61 (0)7 4729 0108 - Home
M: +61 (0)409 270 898 - Isis
M: +61 (0)407 231 042 - Wayne